---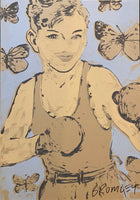 DAVID BROMLEY (1960 - )
Signed, Screenprint on Card

Title: Boy Boxer
Sheet Size: 71cm x 51cm

Condition: Excellent - Never Framed Before
You can also come view this work and many others in our Surry Hills Gallery in Sydney. Please message me to arrange a time to view in person.
Serafin Martinez
Principal, Martinez Art Dealer
Surry Hills, Sydney, Australia
ABN 36 561 407 649 
Biography:
David Bromley's artworks have two clear focal points - the Boys Own adventure project and the Female Nude series. Born in
Sheffield, England
, in 1960, Bromley came to
Australia
in 1964. He began his career in
Adelaide
as a potter, but eventually turned to painting. He takes inspiration from childhood books, popular culture and artists such as Andy Warhol, Roy Lichtenstein and Glen Baxter.
Bromley focuses on the physical and emotional journey of life's travels, using the imagery of the Boys Own comic culture to paint vivid, passionate pictures of the spills and thrills of childhood. He centres on the adolescent years where he believes life is at its most intense and its demands are at their strongest.
He uses colour and figurative expressionism with nostalgia and the symbolism of Pop Art to hint at the innocence of the young. However, nothing is set in concrete and he leaves his work open to interpretation by the viewer. Even his still life pictures seem to have spontaneous movement.
Bromley's nudes portray the female form in contemporary fashion, as seen in the media, and this contrast to his other work serves as a breath of fresh air. He makes use of layering and texturing techniques while employing mediums such as metallic paint and leaf combined with black outlines on bold colours. He says the creation of two such dissimilar themes helps to keep his approach fresh.
Since the mid-1980s, Bromley has had more than 30 solo exhibitions nationally as well exhibiting regularly throughout
Europe
, the
UK
,
South Africa
,
Asia
and the
US
.
David Bromley was an Archibald Prize finalist for four consecutive years, plus 2008 and has been listed by the Australian Art Collector as one of
Australia
's 50 most collectible artists.