---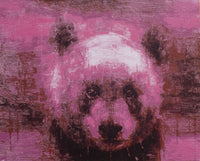 ADAM CHANG (Australian/Chinese, born 1960 - )
Limited Edition Silkscreen Print - Canton Edition 320gsm Paper
Title: Shan Shui with Panda 2

Signed: Lower Right (In Pencil)
Edition: A/P (Artist Proof)
Image Size: 77cm x 95.5cm
Sheet Size: 77cm x 95.5cm (Deckled and Straight Edging)
Condition: Excellent - New
Unframed.
You can also come view this work and many others in our Surry Hills Gallery in Sydney. Please message me to arrange a time to view in person.
This work is also accompanied by a Certificate of Authenticity.
Serafin Martinez
Principal, Martinez Art Dealer
Surry Hills, Sydney, Australia
ABN 36 561 407 649
Biography:
Adam Chang (Hong Jun Zhang) (b. 1960), is a Sydney based portrait painter.

Born in Shanghai, Chang began showing in major exhibitions in China in the early 1980s and held his first solo show in 1985.

From 1989 to 1993 he studied at the Fine Arts Academy, Shanghai University; he was awarded the Shanghai Art Critics Prize in 1992.

Since Chang migrated to Australia in 1997 he has been an Archibald Prize finalist six times, with portraits of Gene, Brian and Emile Sherman, Simeon Kronenberg and John Coetzee. His portrait of Coetzee won the People's Choice award in 2011.

He has twice been a finalist in the Doug Moran National Portrait Prize. His solo exhibition Mao, Terracotta Army & Myself was held at the Chinalink Gallery in 2011.